Our works
Volkswagen

,

Mexico

Noise elimination of a combustion engines testing robot

ČEZ, a.s.

,

Czech Republic

Noise elimination of a transformer

SULZER

,

Germany

Noise elimination of water pumps

Doosan Škoda Power

,

Finland

Noise elimination of a steam turbine

S. A. B.

,

Germany

Noise elimination of a mobile diesel engine

SCHENCK RoTec

,

Germany

Noise elimination of balancing machines
About us
Company Technoing offers comprehensive services in solution of sound protection precaution and is able to complete orders from project working up to the final mounting directly at customer place. Production of our sound protection components went trough 15-years development and is able to adapt itself to different technologies, mainly production of doors, windows, openings, possibilities of full walls openings, acceleration of ceilings, forming of weight ceilings with possibility of material storing, all eventually provided with compelled ventilation, lighting, manipulation technology and electrical installation assuring work safety.
Parts production is forced on maximal independence in technology with minimal co-operation for sheet-metal preparation up to the length of 4 m. Final surface improvement is also done with minimal co-operation. All products have surface improvement accordingly to customer inquiries in colour shades RAL, eventually are produced from galvanised sheet, rustless, aluminium, in order to have higher resistance. Our products are already satisfying customers from four world continents. Have a look at our references.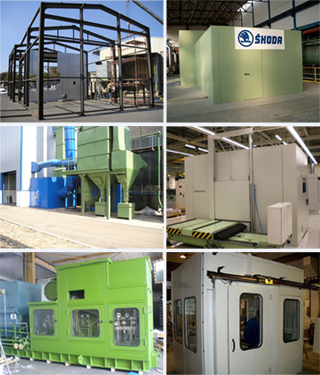 Contact
KK Technoing spol. s r.o.
Voznice 173
IČO: 45145067
DIČ: CZ45145067
Tel.: +420 318 533 981
Fax: +420 318 533 987
Bank Account:
CZK: 454643211/0100
EUR: 51-1883700207/0100